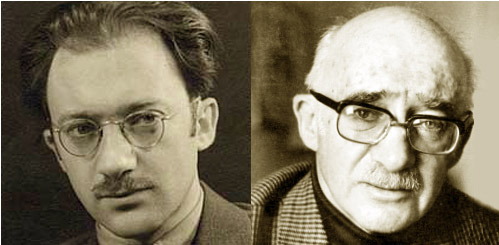 Courtesy of Bibliotheca Iidica


Abraham Sutzkever ( 1913 - 2010 ) turned out to be the most significant Yiddish poet of the twentieth century for a variety of reasons.

There is the delicacy of his pre-War love poems and the uniqueness of his pastoral suite Siberia; the musicality of his verse, with coinages and wordplay every bit as inventive as in Aron Tsaytlin. But above all, there is his never relinquished commitment to bear witness to the dead of Vilna. These poems, written in every decade of his later life, read as if written with his own blood.

Sutzkever was a hero in more ways than one. Firstly in the Vilna Ghetto and with the partisans in the forest. Secondly as the creator and editor of the Tel Aviv monthly Di Goldene Kayt, from 1949  to its end in 1995. This magazine gave voice and cohesion to the Yiddish literary communities of the diaspora, and achieved universal acclaim as the premier post-War Yiddish literary journal.

Since his passing the internet carries numerous tributes to this modest and unassuming man. The interesting and unusual tribute, by Melvin Konner, a translator of Sutzkever's African poems, can be found here.

The best comprehensive English language account of Sutzkever's life and work I have found is by Justin Cammy, in Dictionary of Literary Biography, vol. 333 "Writers in Yiddish" ed. Joseph Sherman (2007) Thompson Gale USA. It has an excellent bibliography, too.

-------------------------------------------------------------------------------------------
We are grateful to the Polish Yiddishist magazine Cwiszn for permission to republish here Sutzkever's moving farewell to Poland Tsu Poyln, which he wrote in Lodz in 1946 - together with its recent Polish translation, by one of Krakow's leading young Yiddishists, Marek Tuszewicki.

The poem is in five sections. In the first are noted those great Polish poets who inspired and informed Sutzkever's development: Tuwim, here called Julian Ben Tovim; Lesmian and Norwid among others - and Mickiewicz, whose metre is used in the poem (and to great effect in the translation).

In the second part Poland's great river Vistula is invoked, and the glorious past refuge for Europe's Jews is remembered - and the question asked: what happened to that friendship? And this section ends with the famous refrain of Slowacki's hymn "Smutno mi, Boze!" "I am sad, my G-d!"

In the third part Sutzkever makes his position clear. "You aren't responsible for the slaughter. You did take advantage of it. But for me those few who saved me outweigh the other thousands." He describes these instances of heroism, contrasting them with those in Warsaw who watched Jews burning in the Ghetto Uprising with satisfaction.

In the fourth section he is already distanced from his Polish past. He cannot bless Poland for he has seen its pogroms. There is nothing here for him and its future doesn't concern him.
And so finally he comes away. The last lamenting refrain in the fifth part is no longer in Slowacki's Polish but "O vey mir, O vey mir".

Andrew Firestone  2011.